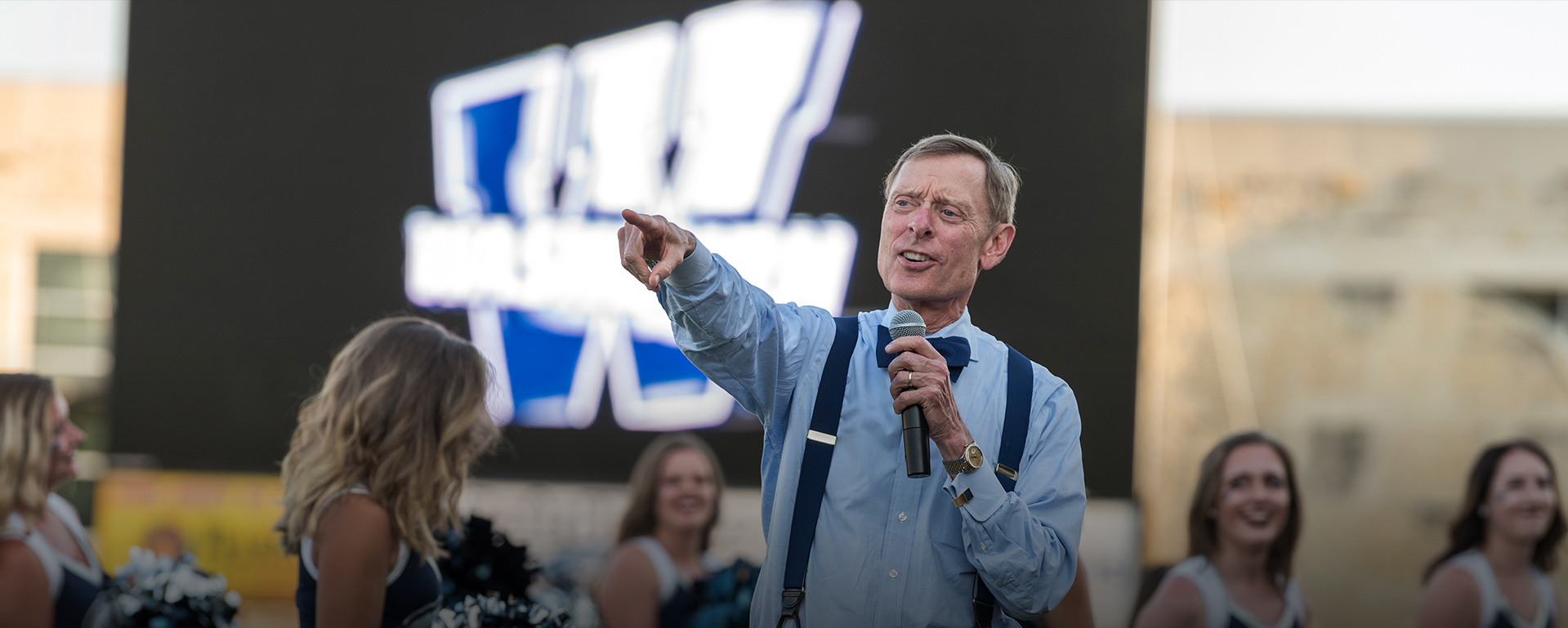 Joy Bailes
17 August 2021
     Topeka, Kan. – Every year Washburn University faculty and staff host opportunities for students to get involved, explore student services and discover the Washburn community. This year, what has been traditionally termed Welcome Week, has been turned into Weeks of Welcome. Events begin August 19, 2021 and continue through Homecoming, October 30, 2021. These events are open to all Washburn University students, including Washburn Institute of Technology and Washburn Law School.
     Below are highlights for the first week of Weeks of Welcome, more events and the most up-to-date information can be found on the university calendar at washburn.edu.
     Washburn University's fall 2021 semester officially begins Aug. 21, 2019.
Thursday, Aug. 19
9 a.m. – 4 p.m.       Move-In; Across campus – Lincoln Hall (off of 19th St.), the Living Learning Center (adjacent to the Memorial Union, accessed via Jewell Ave. from 17th St.), and Washburn Village (off of Jewell Ave. from 21st St.).
President Farley will be helping students 9 a.m. – 11 a.m. starting at The Living Learning Center (LLC), and then will move to Lincoln Hall and Washburn Villages. He will be accompanied by Patrick Early, public relations director. You can call Patrick Early at (717) 385 – 1119 to get Farley's location at any time.
6:00 p.m.                   Play Fair (game night); Indoor Athletic Facility (off of
                                   Durrow Dr.)
Friday, Aug. 20
10 a.m.                         Mabee Library Meet & Greet
8:45 p.m.                     Movie on the Big Screen, Yager Stadium at Moore Bowl
Saturday, Aug. 21
6 p.m.                           Grocery Store Bingo, Union Market in the Memorial Union   
8 p.m.                           Glow in the Dark Scavenger Hunt, North side of the Memorial Union      
Monday, Aug. 23
4 p.m.                           Pass, Punt & Kick, Intramural Field (off Durrow Dr.)
5 p.m.                           Roc the Rec, Student Recreation & Wellness Center (off Durrow Dr.)
Tuesday, Aug. 24
1 p.m.                         On-campus Student Job Fair, Union Underground, Memorial Union
5  p.m.                        WU Fest (festival of activities available to students through 
                                  Washburn), East Union Lawn
Wednesday, Aug. 25
11 a.m.                        Ichabod's Birthday: Scorch on the Porch (celebrating our 
                                   benefactor Ichabod Washburn's birthday), Memorial Union
7 p.m.                        Trivia Night, Bradbury Thompson Alumni Center
Thursday, Aug. 26
4 p.m.                        University Convocation, Lee Arena
5 p.m.                         WU Bash, Union Underground, Memorial Union
7 p.m.                         Foam Party, East Union Lawn
     Founded in 1865, Washburn University is a public institution with about 7 thousand students and a thousand faculty and staff involved in more than 200 academic programs. Washburn's programs lead to certification, associate, bachelor, master's degree or doctor of nursing practice and juris doctor degrees.
     In addition, Washburn Institute of Technology (Washburn Tech) -- a nationally recognized innovator in career and technical education – is part of the Washburn University family. The dedicated faculty and staff at Washburn Tech serve adult and high school students as well as business and industry participants with career specific training.
     All programs are offered on either the 160-acre residential campus in the heart of Topeka, KS, or at Washburn Tech's campuses. Washburn University is accredited by the Higher Learning Commission (HLC) of the North Central Association and many of the individual programs have additional accreditations. Washburn University's accreditation was reaffirmed by the HLC in July 2019.
  -30 -
For further information, contact:
Joy Bailes
Assistant Director of Public Relations
Office: 785-670-2153
Cell: 785-230-1648
Email:
joy.bailes@washburn.edu