Topeka, Kan. – Washburn University is continuing its tradition of recognizing a student and their family as the "First-generation Family of the Year" on Wed., April 6 at 4:15 p.m. in the Union Underground in the Memorial Union on the Washburn University campus. Analisa Chavez-Muñoz, a Washburn University senior, will be receiving the honor.
         It has been a long-standing tradition for Washburn to recognize families that have shown dedication to, support of and enthusiasm for the university over the years.
        "Washburn would not be the great university it is today without the hard work put in by our first-generation students and their families," said Dr. Eric Grospitch, vice president of student life for Washburn University. "The university began recognizing first-generation families for their accomplishments in 2020 and intend to continue this tradition in the years to come."
       Washburn considers a student first-generation if none of their parents or their legal guardians completed a bachelor's degree (regardless if siblings or other relatives have earned degrees). The university has multiple programs in place specifically to integrate first-generation students and their families into Washburn University and the college experience, and has been recognized nationally for their work on behalf of first-generation students.
      "We have learned so much from our first-generation students when it comes to the struggles they face achieving their degree," Grospitch said. "It is important that we continue to recognize them and their families for their dedication to supporting one another and the university."
Analisa Chavez-Muñoz
      Analisa Chavez-Muñoz, who is from Topeka, is majoring in public administration with a minor in Latino studies. She will complete her bachelor's degree in fall of 2022.
      "During my time at Washburn University, I feel like these have been the years when I really started to get a better idea of who I was and who I wanted to be," said Chavez-Muñoz.
     Attending college had its difficulties with being the first in her family to graduate college and a being a Mexican American woman. Chavez-Muñoz faced these struggles head on with the knowledge that they were temporary, and her success would be shared with her family by creating generational wealth in the years to come.
     "Everyone before me has had to work low-paying, laborious jobs just to make ends meet. I want to end these cycles of having to struggle in order to live comfortably," she said.
     Chavez-Muñoz said that faculty and staff members have played a huge role in her positive college experience, such as former first-generation advisors, and professors Christopher Jones and Kim Morse.
     "They empowered me to always use my voice and have helped me work through any struggles I may have been encountering," she said. "Before college, I was very quiet and did not get involved in very much. I would never put myself out there or believe in myself to do anything."
     By integrating herself in so many organizations, she became more confident in herself and her abilities.
     "During my first year, I helped found a Latina based, multicultural sorority [Sigma Lambda Gamma National Sorority, Inc.] on campus, a space that was much needed on campus, and became Vice President [of the sorority] as well as holding other executive positions the following years," she said. "My sophomore year, I interned for the Kansas Hispanic and Latino American Affairs Commission, an office for the governor and engaged my community in civic engagement and organized some really cool events with amazing guest, such as labor rights pioneer Dolores Huerta."
      Chavez-Muñoz also became President of the Hispanic American Leadership Organization (HALO) her junior and senior year, something that has contributed to her growth.
      "I have developed so many leadership skills and have inspired myself to keep learning and to keep leading," she said. "I am also proud of making the President's or Dean's list every semester while being super involved, working an on-campus job, an internship and an off-campus job."
      After she graduates, she wants to attend The University of Kansas to obtain her master's in urban planning to become a city planner.
      "Once I obtain my degree and get my career started, I want to give back to my family and community to thank them for shaping me, and so they won't have to struggle as they have their whole lives," she said.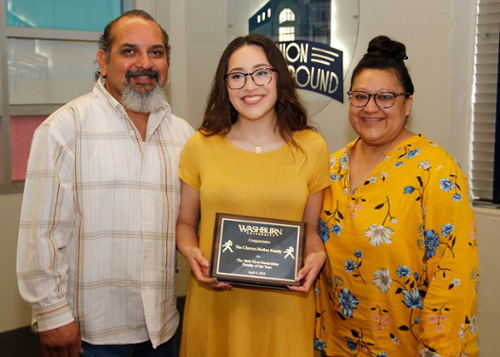 -30-
For further information, contact:
Joy Bailes
Assistant Director of Public Relations
Telephone: (785) 670-2153
Cell: (785) 230-1648
Email:
joy.bailes@washburn.edu