Topeka, Kan. - This past weekend the Washburn debate team competed, in person for the first time in two years, at the National Forensic Association Lincoln Douglas Debate Championships hosted by Illinois State University in Bloomington-Normal, Ill. First-year Washburn student and Topeka native Cade Blenden placed in the final four. Blenden lost to the eventual tournament champion, Alex Webb of Lewis & Clark, on a 3-2 decision. 
     Washburn's Dan Archer (sophomore) and Zach Wallentine (senior) finished in the final 16; Carlos Cedillo (junior) placed in the top 32. Archer was recognized also as the sixth best overall speaker at the tournament. Each speaker is rated for their style, along with their wins and losses, in the preliminary rounds, all of which helps determine the seeding of the top 32 that advance to elimination rounds.
     "Cade, Dan, Zach and Carlos were joined by Washburn's Jacob Bailes (freshman), Jenna Gorton (junior), Logan Michael (sophomore) and Hunter Squires (freshman)," said Dr. Kevin O'Leary, director of debate and senior lecturer in communication studies for Washburn University.  "Each narrowly missed making it to elimination rounds and worked tirelessly the entire weekend to support their teammates' progression."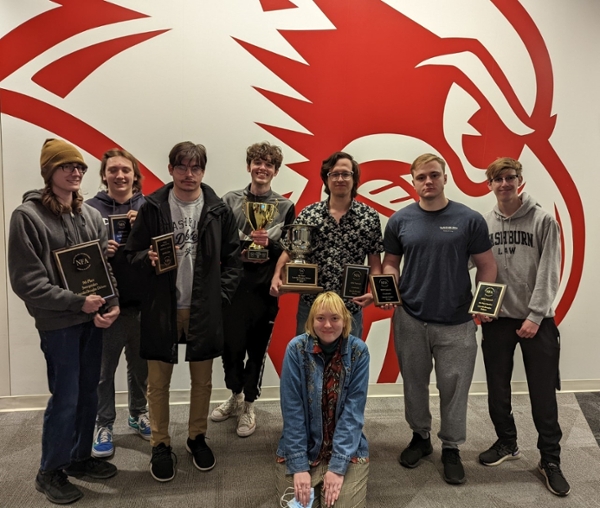 Washburn University Debate Team Photo at the National Forensic Association Lincoln Douglas Debate Championships, Back row, left to right: Logan Michael, Hunter Squires, Carlos Cedillo, Cade Blenden, Zach Wallentine, Dan Archer, Jacob Bailes. Front row: Jenna Gorton.
     On the basis of the team's strong success, Washburn was recognized as the Fourth Place Squad in the Overall Sweepstakes for Lincoln Douglas Debate.
     Joining Washburn at the Championships were members of the Big 10, Big 12 and Pac 12, among many others.  Competing schools included California State University Sacramento, Central Michigan University, Illinois State University, John Carroll University, Kansas City Kansas Community College, Kansas State University, Lafayette College, Lewis & Clark College, Missouri State University, Missouri Valley College, Penn State University, Simpson College, Texas State University, Truman State University, University of Nebraska Lincoln, University of North Texas, University of Northern Iowa, University of Pacific, University of Utah and Western Kentucky University.
 - 30 -
For further information, contact:
Joy Bailes
Assistant Director of Public Relations
Telephone: 785-670-2153
Cell: 785-230-1648
Email:
joy.bailes@washburn.edu