Topeka, Kan. –The Washburn University chapter of Alpha Lambda Delta welcomed 40 new members April 19, 2022 in an induction ceremony. Alpha Lambda Delta is a national honor society distinguishing first-year academic success. New members were awarded a membership pin and certificate to commemorate their accomplishments.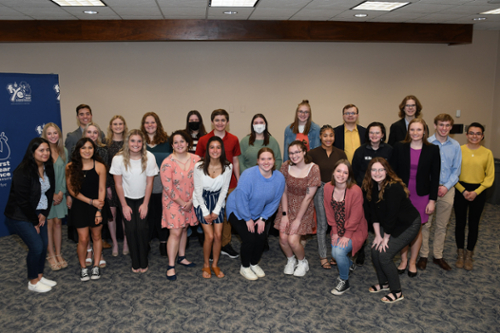 "Navigating a global pandemic for the last few years has been incredibly difficult for everyone," said James Barraclough, director of undergraduate initiatives for Washburn University and Alpha Lambda Delta advisor. "These students have demonstrated the ability to remain focused academically, earning fantastic grades to start their college career and they are all to be commended for their outstanding efforts.
     These students maintained a 3.5 GPA or higher during the first semester of their freshman year at Washburn despite the uncertainty that came with the pandemic.
     "I am excited that we are able to celebrate their early academic success and I look forward to seeing how each of them continue to live Washburn University's motto, non nobis solum," Barraclough said.
     These students are now a part of a society that encourages academic achievement, leadership skills, community service and helps students develop meaningful goals for their roles in society.
-30-
Editor's Note:
Washburn Students Who Joined
David Albertson
Jamie Alden
Kylie Alexander
Cameron Billquist
Bailey Bonagurio
George Burdick
Madeline Cregan
Caden Davis
Mariet Delgado
Ryan Durst
Wesley Ekstrand
Andrea Esquivel
Makayla Geil
Evie Gentry
Cassandra Gutierrez
Natalie Haberstroh
Blanca Jasso Mejia
Tessa Jeffery
Alissa Johnson
Emilee Jordan
Emily Keck
Leyna Kern
Rocelyn Miller
Emma Nelson
Citlaly Olguin-Marquez
Laurel Padilla
Zayreli Reyes
Lilly Riddell
Taylor Romanchek
Patrick Sandquist
Paige Sims
Ben Steinkuehler
Max Taylor
Emma Teply
Mashay Vaughn
Sierra Vigneron
Mikyna Voss
Madison Whitham
Emma Williams
Bella Wood
For further information, contact:
Joy Bailes
Assistant Director of Public Relations
Telephone: (785) 670-2153
Cell: (785) 230-1648
Email: joy.bailes@washburn.edu