Patrick Early
12 September 2022
     Topeka, Kan. – Washburn University has been named the 14th best public regional university in the Midwest by U.S. News and World Report. The ranking also earned Washburn the top spot among all similar universities in Kansas.
     In addition, Washburn ranked as the top public regional university in Kansas for student veterans, as well as having the lowest typical student debt at graduation. 
    "It is wonderful to see Washburn recognized in this way," said President Jerry Farley. "The faculty at Washburn is committed to teaching and to our students. Our academic support staff are dedicated, and our students benefit. This recognition by U.S. News demonstrates our commitment to student success, through graduation and beyond."
     The rankings are based on a survey by U.S. News which collects extensive data from schools including class size, financial aid awarded, graduation rates and peer institution opinion.
      Washburn is included in the rankings of Midwest Public Regional Universities, used by U.S. News to compare small to medium-sized public universities in Midwestern states.  The universities in this category recruit within their region and are more focused on teaching than research. From 2018 to 2021, Washburn was categorized as a national university, comparing it to much larger research-focused universities that recruit nationally. 
       The ranking as 5th Lowest Debt among Regional Public Universities in the Midwest is based on the amount graduates borrowed through federal loans. About 54 % of incoming freshmen at Washburn use federal loans to help pay for college.
       The report also ranked Washburn #29 for its attention to the specific needs of veterans and of those transitioning out of active military service.
       "If you're looking for public universities in this region, we're a great choice," said Christa Smith, director of Strategic Analysis, Research, and Reporting, who completed a majority of the survey on Washburn's behalf. "That means you're going to graduate on time, with less debt and with a top-quality education." 
      Prospective students can see how Washburn University compares to other institutions and how the rankings are calculated on USNews.com.
      Founded in 1865, Washburn University is a public institution with more than 6,000 students involved in more than 200 academic programs. Washburn's programs lead to certification, associate, bachelor, master's degree or doctor of nursing practice and juris doctor degrees.  The programs are offered through Washburn's six primary academic units – the College of Arts and Sciences, the School of Applied Studies, the School of Business, the School of Nursing, the School of Law and the Washburn Institute of Technology (Washburn Tech.)
     All programs are offered on either the 160-acre residential campus in the heart of Topeka, KS, at Washburn Tech's campus on Topeka's West side or in the East Topeka facility. Washburn University is accredited by the Higher Learning Commission of the North Central Association and many of the individual programs have additional accreditations.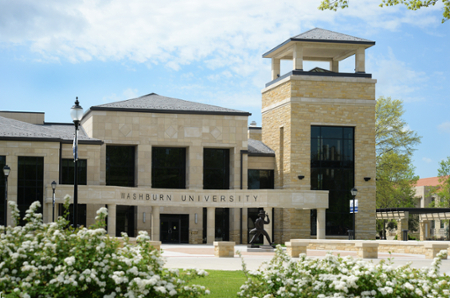 -30-
By the numbers: U.S. News and World Report Best Schools 2022-2023
#14 in Top Public Schools Regional Universities – Midwest 
 5th Least Debt in the Regional Universities — Midwest
 #29 for Best Colleges for Veterans Regional Universities – Midwest