Joy Bailes
07 December 2022
     Topeka, Kan. – The Washburn University study abroad program has announced the winners of their annual Study Abroad Photo Essay Contest. Washburn students Shelby Sutton won first place, Isabel Marquez won second and Mercedes Egidy is the third-place winner, each receiving a monetary prize.
      "The annual Study Abroad Photo Essay Contest was established to recognize the importance of Washburn students' international experiences and promote study abroad to other Washburn students and the community," said Tina Williams, study abroad program coordinator for Washburn University. "This is the 16th year our students have shared their experiences with us through photography."
     Photo Essays are reviewed by the Study Abroad Photo Essay committee.  Essays are judged using the following criteria: creativity, literary style, selection and quality of the photos and the overall unity of photos and text information.
     Their photos will hang January 2023 – May 2024 in the Mabee Library on the Washburn University campus. The library and exhibit are open and free for the public to visit.
Shelby Sutton, First Place
     Sutton is a senior from Topeka, Kan. majoring in business marketing and management. She spent a summer at the Rennes School of Business in Rennes, France studying cross-cultural management.
      "Embarking on this opportunity alone was the scariest thing I have ever done in my life but it was also a dream come true and resulted in me being confident in ways I never thought I could," said Sutton. "Additionally, due to the generosity of Washburn's study abroad department, the Washburn School of Business, my family and friends, I was able to afford not only the educational opportunity but some additional experiences including, but not limited to, Saint Malo, the Eiffel Tower and the Arc de Triomphe. 
     "There were 26 students from more than 20 countries and 17 schools that made up my class. We each contributed unique characteristics to our time together and established friendships that made it incredibly hard to leave each other at the end of our program. The opportunity to meet so many people from so many different places around the world is one of the things I will cherish the most about this opportunity."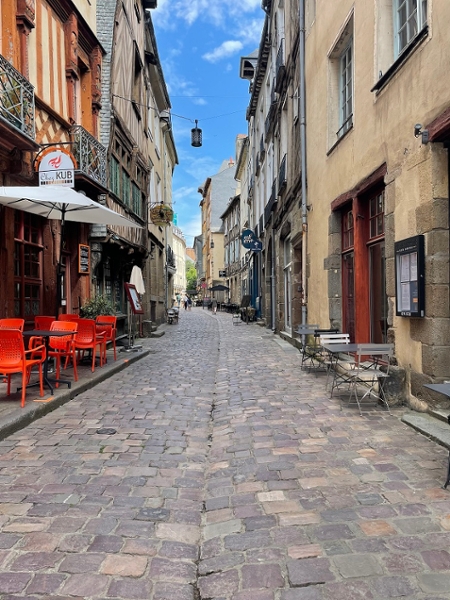 Isabel Marquez, Second Place
      Marquez is a senior from Topeka, Kan. majoring in nursing. She spent the summer in the Caribbean and Puerto Rico learning nursing perspective.
      "Our main purpose was to travel as a nursing department and help assist those in lower living conditions with any medical needs, learn from the community and experience the culture differences," said Marquez.
      "Studying abroad to Puerto Rico was an opportunity that I could not have imagined being able to do on my own.  I was introduced to many of the cultures' customs and provided me opportunities and activities to be involved in as a group and advance my practice in nursing. It has also allowed me to discover resources for going on mission trips on my own or volunteering to accompanying another study abroad trip."
Mercedes Egidy, Third Place
       Egidy is a senior from Kansas City, Kan. majoring in nursing who also spent the summer in the Caribbean and Puerto Rico considering nursing perspective.
      "The most fascinating thing about our trip to Puerto Rico was visiting the old, historical sites," said Egidy. "I sat with an elderly couple on the bench nearby Castillo San Felipe del Morro affectionately referred to as El Morro by the locals. They explained changes they had seen in the area to me opening my eyes to more than that of what a tourist would see."
      Washburn University strides to advance global competencies for students, faculty and staff through international student and scholar services, intensive English and other programs and initiatives, like the study abroad program, to promote global understanding, diversity and inclusion within the university learning community and beyond.
     "We believe students who have studied abroad or been thoroughly exposed to the richness of history and cultures beyond our shores graduate from the university ready to contribute to a fast-paced global society in which information is delivered instantly around the world," said Baili Zhang, director of international programs for Washburn University.
- 30 - 
For further information, contact:
Joy Bailes
Assistant Director of Public Relations
Office: 785-670-2153
Cell: 785-230-1648
Email:
joy.bailes@washburn.edu