Topeka, Kan. – Washburn University will celebrate its "First-generation Family of the Year" 4 p.m. Wednesday, April 5 in the lower level of the Mabee Library, on the Washburn University campus, during the "We Are F1rst" student organization meeting. Washburn University President JuliAnn Mazachek will make comments and introduce the student and her family. Jennifer Henson, Washburn University junior, and her family will be recognized with this honor.
       Henson is considered an adult-learner, or someone who is not of traditional college age. She and her husband, Bill, have three children.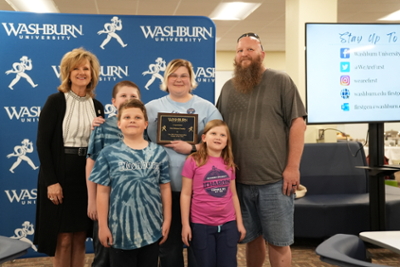 "Walking onto a college campus as a student for the time in more than 20 years was definitely intimidating at first," said Henson. "I did not know how I would be received by the staff, professors or traditional-age college students. But I have been embraced and accepted by everyone at Washburn University despite any age or cultural differences, sometimes because of our differences."
             Henson is pursuing a bachelor of social work and a minor psychology. She expects to graduate in spring 2024, maintaining a 4.0 GPA each semester thus far.
             Henson shares, "Academically, I am challenged and encouraged every day. My professors have standards for high quality work from their students and bend over backwards to help their students every step of the way.
           "Working towards a degree has exposed my family and me to worldviews and understandings that we may not have encountered in such a way otherwise. It opens up new doors of opportunity and possibility. It can help change the narrative of our family's future."
           Henson plans to use her education to work in the social work field, to help empower others to overcome their obstacles and rewrite their narratives.
        It has been a long-standing tradition for Washburn to recognize families who have shown dedication to, support of and enthusiasm for the university over the years.
       "At Washburn University, more than 40 percent of our undergraduate students self-report they are first-generation students," said Dr. Eric Grospitch, vice president of student life, Washburn University. "These students contribute so much to the learning and living environment on campus, and it's truly inspirational to see what some of them overcome to achieve their degrees."
      Washburn considers a student first-generation if none of their parents or their legal guardians completed a bachelor's degree (regardless if siblings or other relatives have earned degrees). The university has multiple programs in place specifically to integrate first-generation students and their families into Washburn University and the college experience.
      "Washburn is committed to supporting these students and these families, from the first conversation about their interest in Washburn through graduation," said Dr. Alan Bearman, vice president for strategic enrollment management and student success, and libraries Washburn University. "Our work on behalf of these students has been recognized nationally and Washburn was just recently announced as a First Scholar institution for creating holistic student success pathways for first-generation students."
  -30-