Lori Hutchinson
11 April 2023
Topeka, Kan. – Washburn University has named Dr. Alan Bearman vice president for strategic enrollment management and dean of student success and libraries. The primary focus of this position is to lead a Washburn-wide collaborative effort and approach to student recruitment, access, enrollment and success through graduation.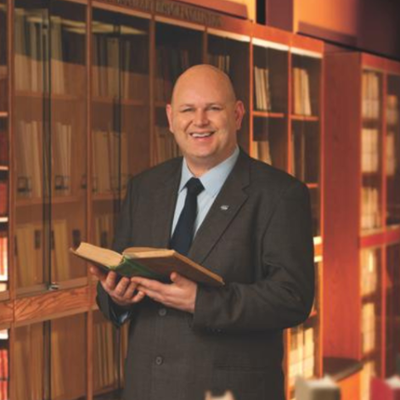 "This is one of the first steps toward bringing life to the bold vision we see for Washburn," said Dr. JuliAnn Mazachek, president, Washburn University. "Growth is a top priority as is creating a premier campus learning experience for all students. Dr. Bearman is a proven leader in student retention and success efforts at Washburn which makes him a perfect fit for this role."
    Mazachek recommended Bearman for the new position which the Washburn Board of Regents approved in March. It combines the responsibilities of two positions currently held by Bearman. He has served as the dean of student success and libraries since 2010 and assumed additional responsibilities as interim executive director of enrollment management last October.
    "We're already experiencing the positive synergy that has emerged from the combined and integrated efforts of enrollment management and student success. Dr. Bearman will lead robust, cohesive and holistic institutional approaches that best serve students – from their first steps on campus until they walk across the commencement stage," said Mazachek.
    Bearman began his career at Washburn as a lecturer in the department of history in 2003. He became interim dean of libraries at Washburn in 2008 and immediately convened a strategic planning process to move the Washburn Libraries from a collection-centric model of operation to a user-focused model. Bearman became the permanent dean of university libraries in 2010.
    In 2011, Bearman was tapped as the inaugural leader of the University's Center for Student Success and Retention (CSSR).  Through the work of CSSR, along with the support of faculty and staff, Washburn has markedly increased student retention rates Washburn recently reported a six-year graduation rate of 54% which ranks as the highest rate among public regional universities in the state.
    Bearman cultivated strong and trusting relationships with leaders at area high schools through his work in the CSSR. Additionally, during his leadership in enrollment management, Washburn University has updated and expanded scholarship opportunities for incoming freshmen and transfer students.
    Bearman earned bachelor's degrees from Murray State University and the University of Kentucky. Bearman also has a master's degree from Murray State and a doctorate from Kansas State University. He and his wife, Shelley, have two children and the oldest attends Washburn University.
-30-
For further information, contact:
Lori Hutchinson
Interim Director of Public Relations
Telephone: (785) 670-1711
Cell: (785) 224-6212
Email: lori.hutchinson@washburn.edu