Joy Bailes
08 November 2023
     Topeka, Kan. – Governor Laura Kelly proclaimed Nov. 8 First-Generation College Celebration Day in Kansas, following the national precedent set by the Council for Opportunity in Education (COE) and the Center for First-Generation Student Success and becoming the first state in the country to make this declaration. Washburn University led the way in requesting this proclamation on behalf of all first-generation higher education students in the state.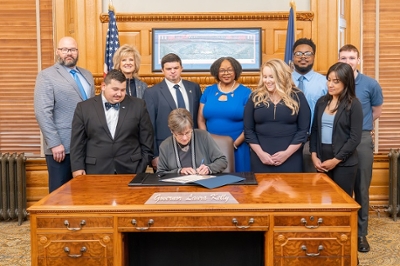 Washburn University junior and Washburn Student Government Association president, Antonio Martinez, proposed the idea for the proclamation.
     "As a first-generation college student, I know how hard it can be to figure out college and then explain it to others in my family," said Martinez. "I also know how rewarding it is to set goals and achieve them, and how important it is to have others supporting you along the way.
     "I have the support of my family and the Washburn community. This proclamation was a way for me to extend that support to other first-generation students and say to others, I see what you're doing and keep going."
    Washburn University has been recognized nationally for its student success efforts for first-generation students. The university was recognized as a Student Affairs Administrators in Higher Education (NASPA) First-Gen Forward Institution in the inaugural 2019-2020 cohort, one of 80 universities in the nation recognized for its high-impact programs for first-generation students. In 2023, Washburn was one of 22 institutions to advance to a NASPA First Scholars Institution by demonstrating its commitment to advancing first-generation student outcomes through improved student success initiatives and institution-wide approaches.
    "Washburn was founded on the principle that all people – regardless of family income, race, ethnicity, or gender – have the right to earn an education," said Dr. JuliAnn Mazachek, president of Washburn University. "I am proud that we continue helping every student find their pathway to success today.
    "As a first-generation college student, I can tell you from experience that having faculty and staff members at your university tell you that you can be successful and that they see qualities and talents you may not yet see in yourself, can make a huge difference. I hope this proclamation helps other first-generation students feel recognized and supported today."
    The Washburn Student Government Association, Center for Student Success and Office of Student Life will host a celebration reception in honor of this year's first State of Kansas First-Generation College Celebration Day from 4 – 5:30 p.m. today, Nov. 8, in the Bradbury Thompson Alumni Center on the Washburn University campus. This is a social for Washburn students, faculty and staff and free dessert bars will be provided.
    The COE and the Center for First-Generation Student Success launched the inaugural First-Generation College Celebration Day Nov. 8, 2017. Given the continued success of this event, COE and the Center for First-Generation Student Success are now partnering to make this celebration an annual event. Nov. 8 was selected as the date for the annual National First-Generation College Celebration to honor the anniversary of the signing of the Higher Education Act of 1965.
- 30 -
For further information, contact:
Joy Bailes
Assistant Director of Public Relations
Telephone: (785) 670-2153
Cell: (785) 230-1648
Email: joy.bailes@washburn.edu